DIET of 1800 CALORIES WITH 72% OF CALORIES OF FATS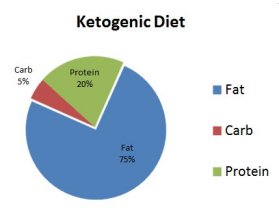 Breakfast
Eggs Pancake
Ingredients:
3 eggs
2 tablespoons of butter
A little bit of egg beaters
Half a teaspoon of vinegar
A teaspoon of salt
3 packets of splenda or nutrasweet
Butter Cooking Spray
Directions: Pour all ingredients into juice blender. Blend for 30 seconds. Pour mix into pre-heated frying pan sprayed with the butter cooking spray on high heat. After pouring the mix, turn into low heat. When the eggs pancake is dry, turn sides, wait a little bit until it's fully cooked like a pancake. You can sprinkle it with another couple packets of splenda or nutrasweet
Nutrition info:
Calories: 400 calories). 35 fat grams, 15 protein grams
Grams of fats: 35
Grams of protein: 15
Lunch
(0 calories).
Dinner # 1
at 8PM:
9 ounces of cooked chicken
15 ounces of iceberg lettuce mixed with 75 grams of mayonnaise
Nutrition Information:
Calories: 1000
Grams of fats: 75
Grams of protein: 70
Dinner 2: 11 PM:
Eggs Pancake
Ingredients:
3 eggs
2 tablespoons of butter
A little bit of egg beaters
Half a teaspoon of vinegar
A teaspoon of salt
3 packets of splenda or nutrasweet
Butter Cooking Spray
Directions: Pour all ingredients into juice blender. Blend for 30 seconds. Pour mix into pre-heated frying pan sprayed with the butter cooking spray on high heat. After pouring the mix, turn into low heat. When the eggs pancake is dry, turn sides, wait a little bit until it's fully cooked like a pancake. You can sprinkle it with another couple packets of splenda or nutrasweet
Nutrition info:
Calories: 400 calories). 35 fat grams, 15 protein grams
Grams of fats: 35
Grams of protein: 15
Total calories: 1800 calories
Total grams of fats: 145
Total calories from fats: 1305
Percentage of fat calories: 72% fat calories
Total grams ofProtein: 100 grams of protein. 22% calories from protein